Last week we had the pleasure of attending the Cirque
du
Soleil
creation, La
Nouba
, at
WDW
.
I have to admit that Mark and I had pretty much given up on seeing it. Although Renee had been smiling and giggling at the posters ever since her first visit to
WDW
, recently, the show had become a 'no-do' in her mind. There were clowns in it, and clowns were scary!
Of course, as it usually goes, it was our friend Nick who changed her mind about it all. First, he introduced the soundtrack to us and we listened to it together. After that, we watched a documentary about some of the other Cirque shows.
I could see her begin to contemplate the situation.
Hmmm
...maybe it really wasn't scary after all!
In fact, it even surpassed my expectations. It was truly incredible! Everything was live-musicians, vocalists, and yes...even a few clowns.
;)
Before I could even get Renee settled in her seat, she was sitting on the edge of it. The
pre
-show featured two clowns who were hysterical and had her belly-laughing. That, of course, really made me smile. It looked like a big thumbs up even before the show began!
Sadly, Mark wasn't able to experience her amazing reaction to it all. Due to work related reasons, he wasn't able to attend with us. No worries, though. Now we have a good reason to see it again!
On to some photos...
Here is our sweet girl all ready for her big night.
A few different views of her very pretty hair-do. I can't believe how grown up she looks!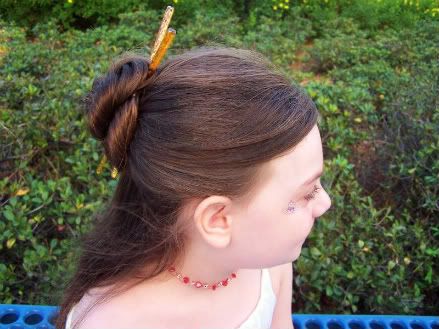 Just the two of us.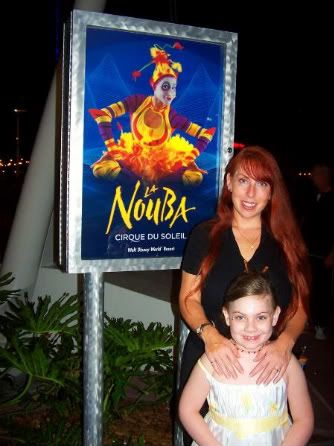 This next photo just makes me laugh. I really wanted to capture a group shot, but there wasn't any place to set my camera up. Nick (I believe it was Nick!), found the most random stranger to hand the camera to. I can not even describe this man without laughing! Look at my face...I was in the middle of cracking up! Needless to say, this gentleman really couldn't have cared less, and it shows-
LOL
!
From the left...Terry (Danny's brother), Nick, Mare, Renee, Mick (Danny's father), Danny, and Denise (Danny's mum).
After that strange experience, there was loads of fun to be had in the store. There were clown noses...
And a Chinese
YoYo
...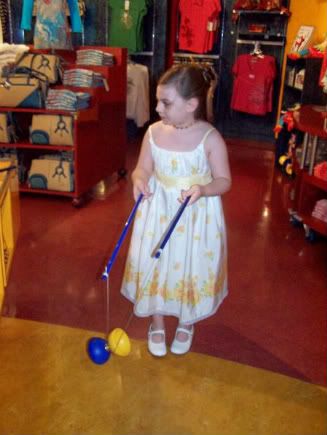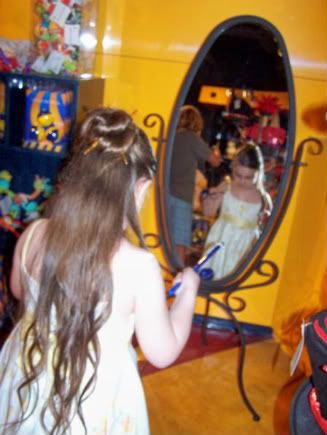 And last but not least, a very cool mask.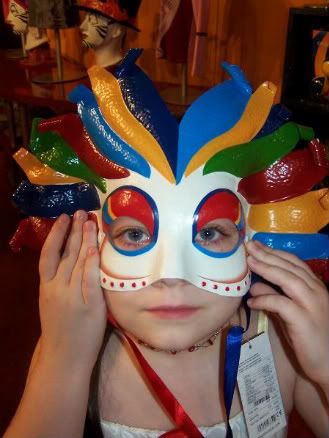 It was really a lovely evening.
If you haven't had the chance to enjoy La
Nouba
, Miss Renee and I highly suggest that you give it a try during your next trip to
WDW
.
And that comes from a little someone who
still
can't (and won't!) accept the whole 'circus clown' thing!