Today's flashback might make you a little hungry.
Before I became a Mom, I had the time to focus on my own creativity. I spent lots of time creating new garden spaces, painting on anything I could get my hands on, and decorating cakes.
The cake decorating thing was sort of an accident. A dear friend of mine was throwing a baby shower, and she remembered the amazing cake that Mom had made for our wedding. She was wondering if I could bring a cake instead of a salad. Sounded good to me, as long as Mom didn't mind.
No, she didn't mind, but as I watched Mom pull all her decorating supplies out of hiding, the bug bit me! I wanted to try to do the cake myself, and that's all she wrote.
A few classes, lots of cake scraps, and a ton of
buttercream
later, 'Cakes by Mare' was born.
I hope you will excuse the quality of this photo-I had to scan it!
This was the last cake I did before Renee was born. Our friends, Rudy and Dawn, had gotten engaged in the rose garden at
WDW
. Her colors were a periwinkle blue and white, and all she asked was that I represent the mouse in there somewhere.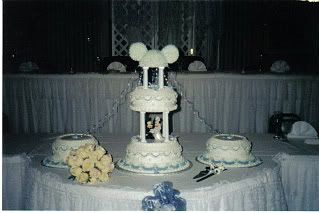 It was one of my most favorite creations, and most appreciated wedding gift, ever.
Oh, and it was delicious, too!