Well, I'm really not sure if our cats are Foodies. They are named after food, though. So what does that say about us?
Meet Cannoli and Cheesecake.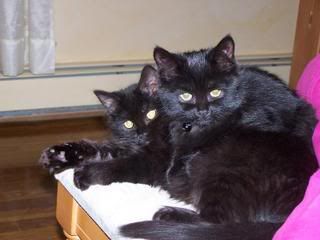 Little girl, Cheesecake...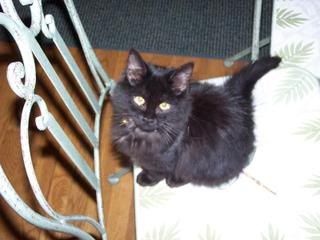 Bad boy, Cannoli...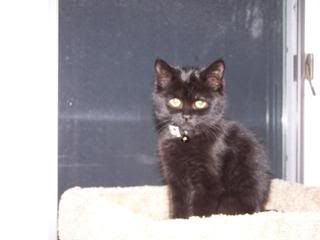 We brought them home to live with us over four years ago. Honestly, I can't believe it has been that long. It seems like yesterday when we took a ninety minute ride from New York to Pennsylvania to adopt a kitten.
Notice the 'kitten' thing. That would be singular 'kitten', and not plural 'kittens'. Stick with me, because it will all make sense later.
When we were relocated to New York, we only moved one cat and a few finches with us. That was quite a small pet population for our family, considering that it had been a full house a few years earlier. Two dogs, four cats, two doves, many finches, fish in the house, fish in the ponds...it was almost a zoo!
But as hard as it is to swallow, pets grow older and eventually head towards the Rainbow Bridge. By the time we left New Jersey, only Hernie kitty (and her birdie friends!) were left.
:(
Renee loved Hernie. She was the only pet she had ever known, and she loved that cat with all her little heart. But Hernie too, grew very old, and we lost her on Valentine's Day in 2004. I won't even begin to try to explain how difficult it is to bury a cat when the ground is frozen and there happens to be two feet of snow on the ground. Let's just say that a Momma will do anything for her four year old heartbroken child.
Did you also know that when you need (and want) to adopt a kitten from a shelter or rescue group in the dead of winter there aren't any to be found? It's just not kitten season. That's not a bad thing, because we already have too many unwanted pets in our country. It just made a very tough time even tougher for me.
As I continued the search for Renee's new furry friend, I stumbled across
Petfinder
. What an amazing website! If you are thinking of adding four little (or big!) paws to your family, this is the place to do your searching. They make it so simple to offer a forever home to a homeless animal. Brilliant!
And
Petfinder
was how we found Cheesecake. She was just a tiny ball of black fuzz, and she had the prettiest little face. She was just adorable!
She was also ninety minutes away, but that wasn't going to stop us. After a quick phone call to the shelter to let them know we were on our way, I threw the cat carrier in the van and began our journey.
When we arrived at the shelter, Renee ran towards the cage Cheesecake was sleeping in. Before she could even get her hands on her, it was love at first sight.
On the other side of the room, another bit of love was going on. I refer to this as
'What in the world was I thinking?'
love. Before I knew it, I was paying the adoption fee for two kittens. Crazy, huh?
We won't even go into how demented this second cat turned out to be. I think I will save that for another blog post.
;)
Now we had to come up with two names for the newest members of our family. What a job! It's hard enough to name one new pet, isn't it?
To make that process a bit easier, we decided to keep Cheesecake's name. She was surrendered to the shelter along with that little snazzy title, and it made us laugh every time we called her. When I asked if all the kittens from the litter were named after food items, I was told that they weren't. The kids in the family who had surrendered the litter had named them all different things-Cheesecake, Simon, Fuzzy, etc. I'm thinking that the kid that named Cheesecake really, really loved the dessert!
Now we needed to come up with a name for the boy kitty that would compliment Cheesecake's name. Yes, I know that sounds a bit ridiculous. Really though, it's no worse than parents who feel the need to have all their children's names begin with the same letter!
You should have heard the desserts...I mean names...that were floating around in the air during that long drive home. One of our favorites was Rugulah. Yeah, um, because it was such a cute name.
The one that totally stuck though was Cannoli. It was simple, it fit his spunky personality, and it was Renee's favorite dessert at the time. Perfecto!
When poor Mark came home from work that night, he thought he was going nuts. There was only supposed to be one kitten, but why was he seeing double? And why was everyone talking about dessert? He couldn't find any in the fridge-LOL!
Here they are today-all grown up.
After all these years, they still continue to spread lots of love...and hair! And although I wouldn't have to vacuum as much, our home would be so empty without them.
Speaking of empty homes, I just recently learned of a rescue group in central Florida who would love to see happy pets running through laughter filled houses. This wonderful group has rehomed almost 500 animals in 3 1/2 years. Isn't that amazing?
If you are so inclined, please visit and/or pass along their website. Knowledge and awareness can make a difference, and together, that may give a sweet animal another chance.
http://www.betterlifepets.com/home.php
It made all the difference in the world for Cannoli and Cheesecake.