In the evening on the birthday of our nation, we decided to head downtown to watch a patriotic, hometown parade.
Miss Renee was decked out in a most festive red, white, and blue theme.
And she just didn't have her face and nails painted. We did her piggies, too!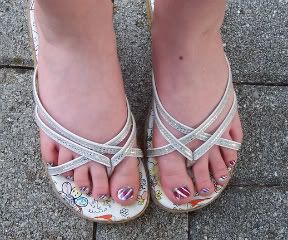 She was so in the spirit that she even brought along her own parade float!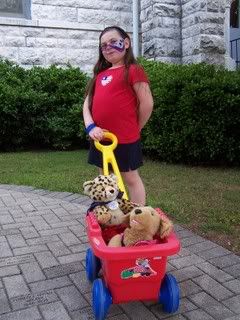 Mark and I figured that this little float might come in handy during the celebration. It would not only gave Link the cheetah and Lady the golden retriever a nice place to rest, but it might be a great storage area for the candy that could possibly be thrown to Renee during the parade!
Our friends, Christa and Kevin, were also attending the festivities that evening. Their daughter, Meg, would be marching with the band in her last 4
th
of July parade. She'll be preparing for college this time next year, so this would be her last 4
th
of July hurrah!
As we waited for the parade to begin, Miss Renee, Christa, Mark, and Kevin all began waving their little flags! Woo-
hoo
!
The parade began with some bikers letting us all know that they were "Proud to be American"; the theme for this year's celebration.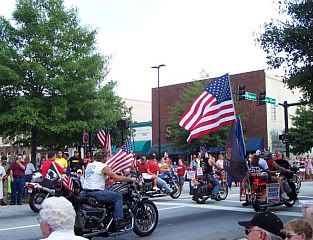 Next up was our local police department.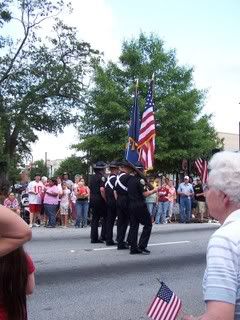 This guy was a hoot! Big kudos to him, and I hope he made it all the way down to the end of the parade route without falling!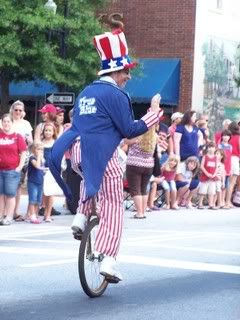 Here comes the band! Meg is smack dab in the middle playing the flute.
Did you notice her blue hair? Renee absolutely loved it, but it was a
huge
surprise to Meg's parents.
LOL
!
Ummm
...
Yup.
Newnan's
own Special Response Unit.
I don't think I should let Mom see that. After the experience of riding right alongside the
Bomb Squad
truck in Atlanta during our move to Georgia, her big question to Mark was, "Just where did you move me?!!!!!"
Rut-
roh
. Now that there's a Special Response unit in our own town, Mark better watch out. He just might get 'The Look' from Grammy!
Ooooh
! Cool nostalgic fire truck. That should make Mom happy!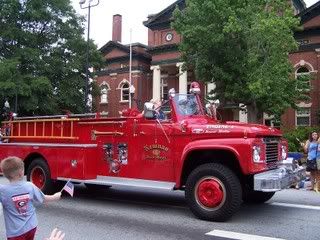 To make it even better, Renee got to shake hands with a local hero.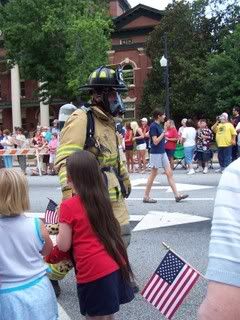 Although his little car has a very loud horn that made us jump five feet in the air, we love this local Shriner. We've seen him puttering around in the Christmas parade, too!
Now onto the
'Isn't that a strange thing to see in a parade?'
category.
Pups in Peg
Peregos
.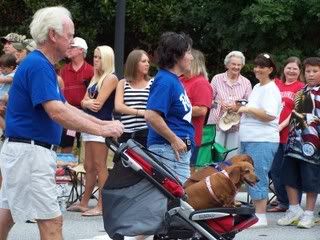 Gym members spinning in hopes that you will join them in their quest for the perfect body.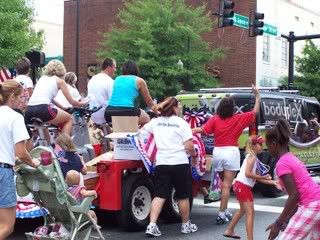 And smokers? Whattttttt? Renee and the big dude behind her look like they are waiting on free samples.
Bwaaaa
-ha-ha!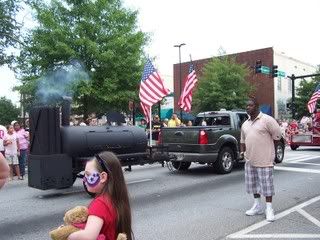 And although some might want to, I just can't place this next group of kids (and their carnivorous plant, Audrey II) into that last category. Community theatre is an awesome thing, and should be celebrated and supported more!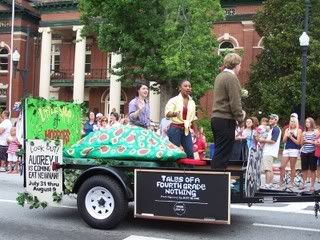 It was a fun, patriotic, and
interesting
evening!
Oh, and just to let you know, Renee cleaned up in the candy department. The wagon...
ooops
, I mean parade float...really did come in handy!
By the end of the parade, there were bubbles to be blown.