I will begin by saying that the little Miss has become quite the Broadway aficionado. Mark and I are pretty excited about it, although I've had to start some creative budgeting to afford this new habit!
I'm sure that her love of the stage was born by seeing some pretty fantastic shows at
WDW
. Although we enjoy everything that Disney World has to offer, their musical shows are just unbelievable. "Finding
Nemo
" and "Festival of the Lion King" are our favorites, and we are constantly blown away by the incredible talent performing on those stages. Let me tell you, if you haven't stopped to enjoy these shows, please take the time to do so. You won't regret it!
Enough about
WDW
, and back to our "Wicked" evening!
After taking Renee to see "Annie" and "Cats" at the Fox Theatre here in Atlanta, we knew that she was hooked. Hey-any kid who really 'gets' the whole
Jellicle
Cat thing just has to be a musical theatre fan!
When our good friends Nick and Danny invited us to join them in seeing "Wicked" down in Ft.
Lauderdale
, we jumped at the chance. It would mean a road trip down to Florida, but we're always up for that!
Until we walked into the theatre, we weren't sure where our seats were going to be. Nick's lovely friend, Darlene, had arranged to get the tickets for us, and their location would be a surprise for her, too. There is nothing like a surprise, right? It can be so exciting!
SECOND ROW! Second row from the stage! It sounds ridiculous, but I actually started to cry because I was so happy. I am such an emotional sap-
LOL
! Renee was just in shock-our seats to "Annie" and "Cats" were nothing like these!
The show was just amazing. That's the best way I can think to describe it.
I am so happy that Nick discouraged me from reading the synopsis before we attended. It's nice to really 'know' the show before you see it, but this time was different. We were totally blown away by the ending. I really don't think we would have experienced it in the way we did if we had known the ending ahead of time. I proud to say (because I really should embrace my emotions!) that I found myself extremely choked up.
Please don't judge. I'm a sap. ;)
By the way...we will never look at the "Wizard of Oz" the same way again!
As we gathered our things, Darlene surprised us again with the news of a backstage tour. If you could have only seen Renee's jaw dropping to the ground. She was struck speechless!
If you know Renee, you know that doesn't happen very often. ;)
We loved the tour. The opportunity to see behind the scenes was unbelievable. And for our little theatre buff and natural ham, having the chance to stand on the stage and look out at the 'house' was the thrill of a lifetime for her.
That was until this happened.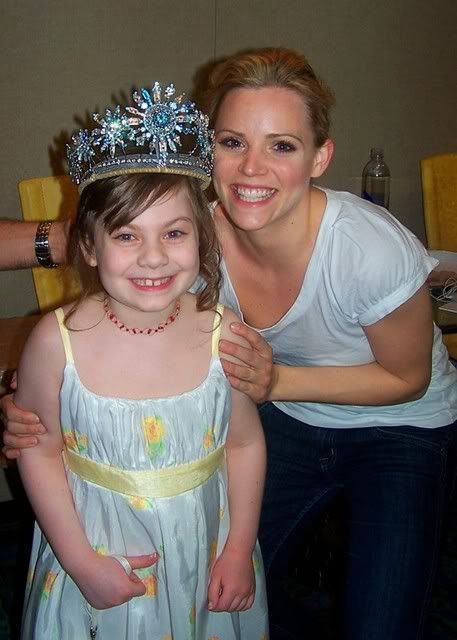 That is THE crown on her little head...
Glinda's
crown! And standing right next to her is Katie Rose Clarke, Miss
Glinda
herself!
On a side note, when we showed our friend

Luerne

this photo, she screamed, "Shut up! No, shut up! THE crown? Do you know how many people would LOVE to put THE crown on their head? Shut up!"
LOL
! Thanks,
Luerne
. We still laugh about your response each and every day.
Because cameras weren't allowed during the show, I did a little searching online so that you could see the crown right on
Glinda's
head. Yes, I know, maybe I'm going a little overkill. I can't help it...there were lots of memories being made that night!
Yup...me thinks the little Miss is a very lucky girl, indeed.
Could the night get any better?
Yes!
You know Renee and you've met Katie, but let me introduce Carmen
Cusack
. Carmen was a phenomenal
Elphaba
. Together, these two women (along with a wonderful cast) kept us laughing and crying for 2 hours and 30 minutes. Incredible.
I found a photo of them together on stage.
Sadly, I never managed to get any photos of our knowledgeable and patient tour guide. I would really like you to meet him too, because he helped to make our evening so special. While searching for photos of Katie and Carmen, I found this photo of him.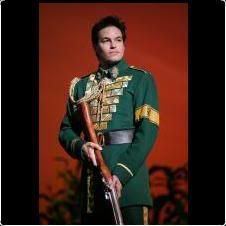 Meet
Fiyero
...I mean
Cliffton
Hall. Don't be frightened by his gun. He's a super nice guy, and a great tour guide!
Oh, and a sensational
Fiyero
. He was so debonair...
Psst...don't tell Mark because he is so not ready for the 'boy-thing', but Renee thought Cliffton was also handsome! She adores

Zac

Efron

in the roll of Link

Larkin

in "Hairspray", but I think '

Zac

-y Poo' might have some competition now-

LOL

!
Thanks to some incredibly giving and gracious people, it was a very special night spent with good friends-old and new.
I guess when you think about it that way, it really wasn't very wicked at all.