Matter in fact, I couldn't get enough of them.
I mainly used them for crafts. They made baskets prettier, wreaths more interesting, and when painted to look like funny little
santas
they were just adorable.
Back when I had
time
for crafts (HA!), we never had any pine trees near our home. I had be resourceful and rely on other means to get them. Sometimes I would get them from a friend's father who frequently traveled through the Pine Barrens. When that supply got low, I am ashamed to admit that I even bought a few bags from the craft store. The horrors!
Fast forward to our new home in Georgia. When we first came to look at the house, I was greeted by the scent of pine as I stepped out of the car. Just imagine it...lots of lovely pine trees, and they were gently swaying in the breeze on that warm, spring day. It was wonderful! I saw a few
pine cones
scattered around on the ground and my mind went wild with ideas of creativity. They were mine, all mine!
What a fool I was. Besides dropping those little nuggets of craftiness, pine trees also drop pine needles.
Everywhere.
Especially on the driveway. Which happens to be very long.
I would measure it, but it's a pretty long walk. ;)
Here's what the past weekend looked like...
Before you ask, yes, the wheelbarrow is filled to the top with
pine cones
.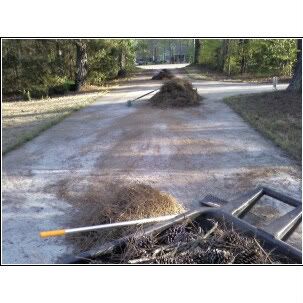 And those piles! Lots of pine needles, and way too much raking and sweeping. I knew all those years of mucking out stalls at the barn would come in handy, but at least I got to hop up on a horse as a reward afterwards!
I think I will be looking into one of those re-chargeable blowers to get rid of all that debris. Just think-it will leave me more time to craft with all those wonderful
pine cones.
Or not...
LOL
!