A short time ago, Mark's Dad gave us a huge box of photos. To our delight, mixed in with the typical growing up shots, were photographs taken during some of their family trips to
WDW
. Renee was especially excited, because she could see what Disney World looked like back when her Daddy was a little boy!
Look at the Dwarfs. Aren't they adorable? As far as I can tell, they really haven't changed all that much.
But I can definitely see some differences in the next two.
Goofy's
face is sort of hidden, but look at Donald! What is going on with his eyes? I never knew ducks wore black eyeliner!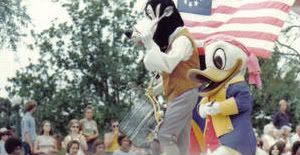 Awwww
, there's
Tigger
and a nice view of Pooh's little backside.
Tigger
has kept his youthful looks, but I bet if Pooh turned around, we would see that he's had a little 'work' done since then. ;)
I guess that's what we love about Disney World. Time may pass by, improvements may be made, but there's always that feeling of familiarity that makes us feel so content and happy.