On a previous Flashback Friday, I talked about my little cake decorating business.
Today, let's talk about decorative painting, okay?
After we lost my sister, I needed something to take my mind away from the grief that seemed to consume it. While picking up cake supplies, I noticed that my local craft store was offering a decorative painting class. It was held on a night that Mark worked late, so it seemed perfect. Sign me up!
That short class in the store led to longer classes in the teacher's home. Before long, I was hooked! But in order to afford the better brushes and supplies that I liked to work with, I needed some extra cash. Hmmmm, can you say, "Craft Show"?
Craft shows led to home shows, and before long, it was another side business for me. What can I say? I was a little entrepreneur!
Recently, I found some photos of the work I did while living in NY. Would you like to see? =)
I can't even tell you how many of these I sold. While shopping a clearance sale, I picked up some wine barrel slats. Originally, I had planned to paint long, skinny snowmen on them. When someone needed something 'Tuscany like' for their newly renovated kitchen, I thought those barrel slats could be used in a different way.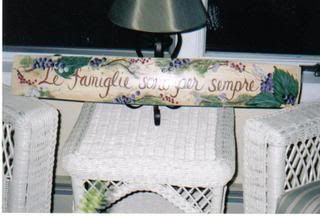 After that windfall, it became a challenge to see what I could find to paint on. How about a mailbox?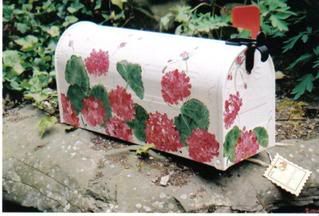 Everyone loved them! And since townhouse dwellers needed a smaller box to fit on their front porches, I began to paint some for them, too.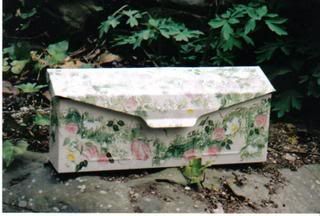 What could be better than free supplies? We had tons of slate scattered around our mountain property, so I decided to see what I could do with it.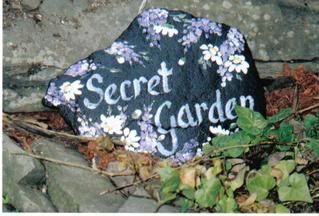 After looking at these photos from the past, I am totally inspired to find the time to pick up my paint brush again. Isn't it funny how visiting the past can be so stimulating?